The Devon Buildings Group's constitution (section 2, iv) (click here) stresses that an important aspect of our work relates to "casework on buildings or groups of buildings under threat".
The list of casework summaries that follows includes more than 150 instances between April 1986 and March 1994 in which the DBG made representations to various authorities, usually planning offices, in attempts to help find more sympathetic solutions to proposals for alterations to historic buildings.
Since 1994 the casework has not been listed in the Newsletter although many have been recorded as Newsletter articles.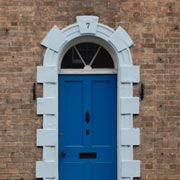 Although the emphasis has shifted somewhat due to additional expertise being made available within the planning authorities in Devon,  the DBG maintains its commitment to speaking out about proposed alterations, both for and against. We urge our membership and the public at large to bring any concerns in this area to our attention. Depending on the committee's assessment of the issues we will make representations to the appropriate agency; in any case we will keep those who raise the matter fully informed.
The committee is considering identifying one of its members to assume responsibility to effectively implement this course of action,  but in the first instance please contact the Secretary.
---