There are many books and articles devoted to the buildings of Devon. This brief selection is intended to be merely a starting point as most have full bibliographies for the interested reader to pursue.
Pevsner, Nikolaus and Cherry, Bridget, Devon, in The Buildings of England series, 1991 edition. Fundamental to any study, it includes a number of introductory essays in addition to the gazetteer entries, photographs and maps. It has an extensive bibliography.
Beacham, P., editor, Devon Building, an introduction to local traditions, 2001, a collection of eight essays with photographs and line drawings, also has an excellent bibliography.
Other classics include Hoskins, W.G., Devon, 1974, Brunskill, R.W., Traditional Buildings of Britain, 1982 and Traditional Farm Buildings of Britain, 1987 and Alcock, N.W. and Carson, C., West Country farms, Houses and Estate Surveys 1598-1764, 2008.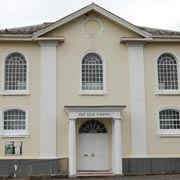 There are a large number of articles in specialist journals such as the Transactions of the Devonshire Association and the Proceedings of the Devon Archaeological Society, not to mention our own Newsletters. Such authors as N.W. Alcock, P. Beacham, S. Blaylock, P. Child, H.P.R. Finberg, W.G. Hoskins, C. Hulland, J.M.W. Laithwaite, R. Parker, J. Thorp and R.H. Worth, as well as those mentioned above, are always worth pursuing.
"Country Life" has featured buildings in Devon since its inception. The National Trust, English Heritage and a number of owners of private estates publish guidebooks of their properties.
For information on Devon building stone, click here to download A Building Stone Atlas of Devon.
---