Membership is open to all individuals interested in Devon's historic buildings, villages and towns.
Institutional membership is also available.
A Register of Members is published every two years and sent to every member so that they can liaise with one another and share ideas and expertise. Register entries include contact details and a personal or professional description of interests. Members commercially or professionally involved with historic buildings are expected to give an undertaking not to use the Group's name in the course of his/her work.
The Annual Subscription is £15; two people sharing the same address are eligible for the Joint Subscription of £25; full-time students aged 25 or under are offered a reduced rate of £10 per year.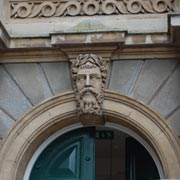 Subscriptions are due on 1st January and may be paid by cheque or bankers order. Cheques should be made payable to Devon Buildings Group and crossed  Account Payee Only.
To access the Application Form and the Bankers Order form,  please  click on the links. The current address of the Membership Secretary to whom it should be sent  is given on the forms.
Thank you for considering joining the Devon Buildings Group. Devon's built heritage deserves your support.
---